Your Inspection is about to get better - Find the best pricing online for a comprehensive selection of materials and messages that you need for your inspection department. Choose from multi-part tags, pre-numbered tags or custom inspection tags. Inspection ID has never been more important, and training budgets are only getting larger. Don't let your inspection tag be your weak link! We have sold millions of inspection tags and labels, and know which tags stand up to the rigors of the field. We know which inspection tags are easier to complete and have a greater chance for compliance. Our tough tags have reinforced eyelets and a resilient, writeable surface.
Web's Top Selling Inspection Tag

Tag-in-a-Box™ Benefits: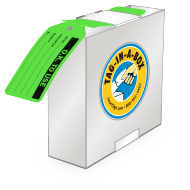 • Just 'Pull' and 'Tear'
• Fluorescent tags are hard to miss!
• A self-dispensing box contains a roll of tags that can be individually snapped off at perforations. Keep your tags handy and neat.
• Just $29.95 per box of 100 Tags!